Needed: Beautiful and functional metal case
The Challenge:
Sensorcon – a sensor development and production company based in Buffalo, NY – created the Sensordrone; a multi-faceted device used with Android and iPhone applications to broaden the sensory capabilities of smartphones. The Sensordrone found great success via a Kickstarter campaign, raising $170k ($145k more than their goal). The sensor was a prototype, ever-changing as improvements were made in development. Sensorcon sought a vendor that could complement their state-of-the-art device with visual appeal. Switzer was responsible for creating the outside shell of the fob-sized device – using .032" thick mirror-finish stainless steel.
The Response:
For the young entrepreneurs of Sensorcon, the aesthetic aspect of the mobile sensor was crucial. Although the use of stainless steel is not out of the ordinary, Switzer was tasked with ensuring the mirror-finish did not succumb to scratching. To avoid scratching, Switzer implemented the use of hand-grinding which eliminated unwanted burrs. Being a prototype, the product was subject to various dimensional changes in light of modifications. There was also the need to meet a swift deadline, as the multitude of Kickstarter supporters awaited their product. After weeks of collaboration, the final product was executed beautifully.
Using inhouse metal fabrication techniques, Switzer not only succeeded in meeting the needs of Sensorcon and their Kickstarters, but also proved to be flexible and compatible with startups.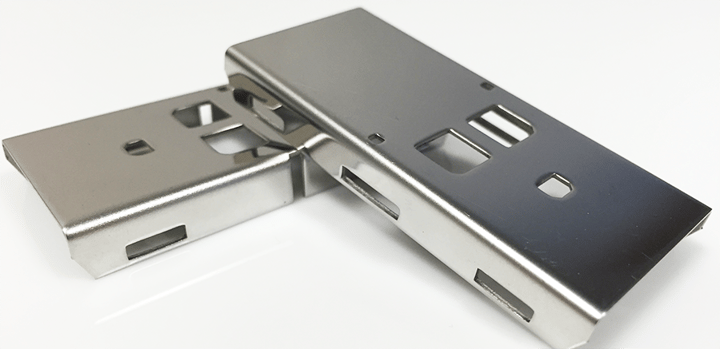 The Feedback:

The technical reviews for the product were abundant, and the company was awarded the Grand Prize of $20,000 in the 2012 "Create the Future Design Contest" (sponsored by COMSOL, Nordson EFD, and Tech Briefs Media Group).
There was no shortage of rave reviews about the exterior, too!
Kickstarter Supporters:
"Got my Sensordrone. Cute. Solid. Really quality looking. Really impressive - Good Work!"
"Got mine today. Beautiful looking – Great work!"